Dr. Elizabeth LaFleur
Developing an Interest in Natural Healing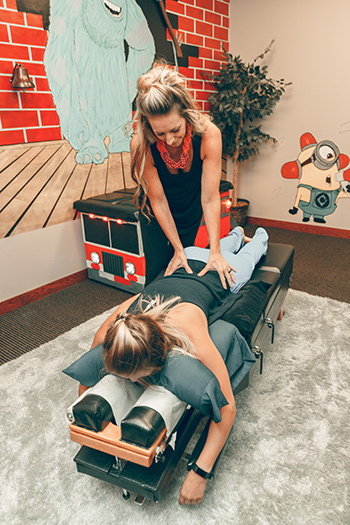 With an interest in learning about the human body, Dr. Elizabeth's path to chiropractic care started early. In high school, she became a certified nursing assistant and worked in a hospital. There, she shadowed different practitioners and thought she would become a physical therapist. She soon discovered, though, that chiropractic was more in line with her belief in natural healing.
After a visit to see a friend at Palmer College of Chiropractic, she was in love with the institution and soon was enrolled.
I think everyone can benefit from chiropractic. It's about living life in abundance and being well, not just therapy for back pain."Dr. Elizabeth LaFleur
Focusing on Expecting Moms
Dr. Elizabeth graduated with a Doctor of Chiropractic. In practice, she saw many athletes and thought she would concentrate on sports chiropractic. Having her son, however, put her on a new path. "I had a birthing experience that wasn't what I hoped for. It ignited a fire in me to help other moms prevent something like that from happening, and I changed my focus to prenatal care." She's been fortunate to see moms who were struggling to get pregnant conceive, and to have incredible birth experiences that are just what any parent would desire — natural and free from unnecessary intervention.
She is certified in the Webster Technique, Graston Technique and is a Certified Chiropractic Extremity Practitioner and a member of the International Chiropractic Pediatric Association.
Outside of the Office
Dr. Elizabeth considers it her life's mission to make sure her children Lincoln and Bella have the best possible childhoods. They love to play outside, eat right, get plenty of sunshine, and get adjusted often to help build a strong and healthy immune system.
To learn more about Dr. Elizabeth's approach, visit her website today! Contact the LaFleur Chiropractic team in West Des Moines to have all your questions answered or to schedule your appointment.
Dr. Elizabeth LaFleur | (515) 564-7272