Sports Care in West Des Moines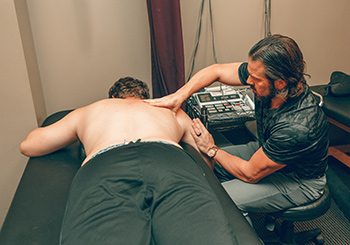 When you're an athlete, you always want to be at the top of your game. Eating the right foods, getting enough sleep and proper training habits are all part of getting an edge on your competition. As chiropractors, Dr. Ben and Dr. Elizabeth focus on improving the health of your nervous system so that your body can work at its greatest possible capacity.
Benefits for All Types of Athletes
Chiropractors are in every locker room for major league baseball teams. Every level of sports player is starting to realize the advantages they can get from chiropractic care. Dr. Ben is part of the PGA Tour's medical team, as well as the team chiropractor for the Iowa Cubs. If you're seeking to improve your performance or return quickly from an injury, LaFleur Chiropractic provides exceptional sports care.


Teaming up With You
To start, we'll get a thorough health history from you and an understanding of what has brought you in. We'll consider the other avenues you may have tried to ensure that our approach is entirely different from anything that hasn't worked in the past. We'll work with your timeline, too, knowing that if you have a game this week, it's not an option to be in a boot or brace for weeks.
With your goals in mind, we'll assess what we feel is possible to achieve and the most appropriate path to get there. If left untreated, your problem will worsen over time and become more serious in the future. Prompt attention ensures that you get better as quickly as possible.
Contact our West Des Moines office today to schedule your appointment! Insurance coverage can be used for your visits, and we're in-network providers for most plans.
West Des Moines Chiropractor For Athletes | (515) 564-7272